MotionDesk
3-D Online Animation of Simulated Mechanical Systems in Real Time
dSPACE MotionDesk is a 3-D online animation software application that visualizes the results of hardware-in-the-loop (HIL) simulations for ECU tests. MotionDesk supports hardware simulation platforms from dSPACE, such as SCALEXIO and DS1006. The tool also supports offline simulation based on dSPACE VEOS and Simulink® and comes with valuable features for developing and testing ADAS scenarios. These include camera sensor simulation during which MotionDesk video data is fed directly to the camera ECU and ideal point-cloud sensor models for the development of radar and lidar sensors.
Supports testing of advanced driver assistance systems (ADAS)
Tight integration to ModelDesk and ASM
Intuitive graphical scene design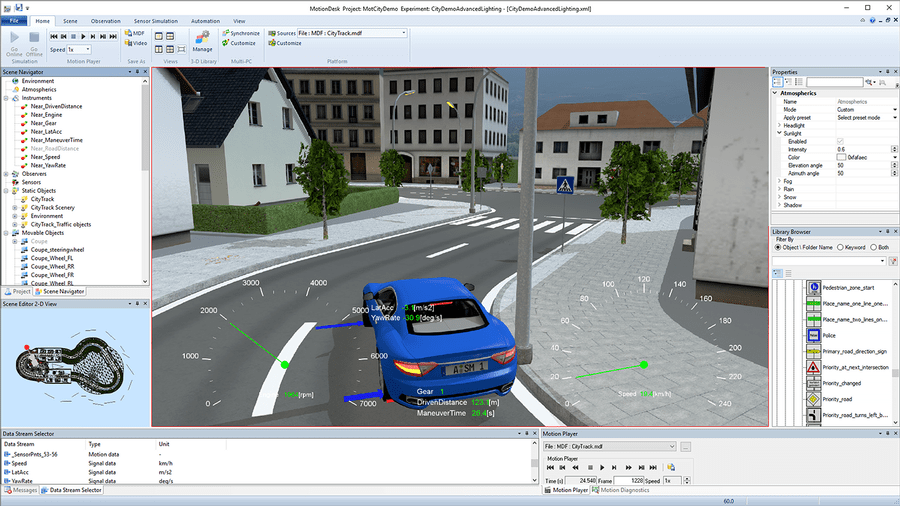 At A Glance
Application Areas
The best way to understand the behavior of a simulated system is to use animated visualization in realistic 3-D scenes. Combining a simulation system with real-time animation is the ideal way to get the whole picture. Since animations can be recorded and replayed, it is easy to compare different controller development strategies by using overlay techniques. MotionDesk enhances the dSPACE tool chain by visualizing how mechanical objects move in the 3-D world. MotionDesk is the perfect tool to visualize any kind of vehicle dynamics concept and driving maneuvers, such as lane change, split-μ, and cornering.
Key Benefits
MotionDesk helps you get more out of your HIL simulator, visualizing your simulation in virtual worlds that represent the simulation scenarios exactly. MotionDesk reads the data from the HIL simulator and displays the animation of the moving objects (vehicle, wheels, steering wheel, etc.) in real time, using the perspectives and render modes that you choose yourself, to give you a clear understanding of how the simulated objects actually behave. You can store the animations as experiment files and record video files to document and illustrate your developments.
Support of Advanced Driver Assistance Systems
MotionDesk provides enhanced support for all ADAS aspects, where the complexity of an action has to be seen to be understood. When an ADAS is tested, the visualization must be realistic enough for object recognition, and a high frame rate is crucial.
MotionDesk's rendering engine guarantees detailed and realistic visualization. Even complex scenes can be rendered at a steady rate of 60 frames per second, and beyond.
For camera-based system tests as well as for radar and lidar developments, MotionDesk comes with valuable features, such as optical path simulations, camera sensor simulations, and ideal point-cloud sensor models. These features support developers of camera, radar, and lidar sensors in their work and simplify the test setup significantly, e.g., by eliminating the need for a simulation box with a camera ECU filming MotionDesk. 
Functionality Overview
Feature
Description
Benefit
Instant animation
Powerful rendering engine
Detailed and realistic visualization
Low latency between simulation and animation
Even complex scenes can be rendered at a steady 60 frames per second.
Intuitive motion model to accurately position the observer in the scene
Realistic man-in-the-loop simulation
Smart objects for simulating and visualizing state-dependent objects stimulated by the real-time simulation model (e.g., traffic lights, brake lights, direction indicators)
NEW: Hardware instancing improves performance while using a large number of the same objects (e.g., trees, street lamps, buildings)
NEW: Hardware instancing
 
Multitrack mode
Visual comparison of simulation run with reference data tracks
Parameter behavior studies
Force vector visualization
Forces represented graphically, e.g., by arrows
You can easily see which forces influence motion and how
3-D scene creation
Graphical interactive scene design
Easy, intuitive operation
Scene creation integrated in MotionDesk
Operation from one tool
All done via drag & drop
Fast scene creation and modification
Automatic generation of guard rails, noise barriers and environment objects
Synergy with other tools for optimized workflow
Automation API for remote-controlling MotionDesk
Exact representation of lane lines is a necessity for developing and testing lane assistant systems
Automatic scene generation based on ModelDesk scenery types like city, highway, country road, alley, etc.
NEW: Realistic simulation of real-world junctions with incoming and outgoing lanes at different height levels
Precise definition and visualization of lane lines
 
Support of free lane lines and markings, delineators and safety barriers
 
NEW: Road definition in ModelDesk allows for specifying Z-profiles on junctions
 
3-D object library
3-D object libraries based on standardized COLLADA file formats
Easy migration from older MotionDesk versions
Imports and migrates VRML2
3-D object libraries can be extended by user-defined objects in COLLADA
3-D object search via keywords and names
Better overview of all objects
Grouping 3-D objects
Better scene structures
Steadily growing library of 3-D objects: cars, houses, trees, etc.
More than 1200 3-D objects available for creating detailed and realistic scenes for various use cases from vehicle dynamics to advanced driver assistance systems and Car2x
Animated characters (optional)
International traffic signs (optional)
 
Lossless, time-based data acquisition
Time-based simulation data acquisition with equidistant time stamps
Synchronized replay of recorded animations in real time
Speed control
Variable slow- and fast-motion replay
You can slow down the animation to observe details and speed it up during uneventful sections
Video file generation
Animations exported into video files (AVI, MPEG-4, etc.)
Archiving and distributing important animations
Multi-PC support
Scalable visualization system for interactive driving simulators via Multi-PC Interface Kit or directly with SCALEXIO simulators
More views increase realism during man-in-the-loop simulation
Optical path simulation
Simulation of optical paths for behind-sensor-stimulation (simulation of visual features such as lens distortion, chromatic aberration, vignetting in MotionDesk)
No need to set up a simulation box with camera ECU filming MotionDesk
Ideal point-cloud sensor model
Reflection points of traffic environment with high 3-D angular resolution
Basis for development of radar and lidar sensors
Different values for each reflection point: Distance, azimuth/elevation angle, relative speed, etc.
GPU-based camera sensor models in MotionDesk
Advanced lighting technology
Light sources can be attached to all objects
Ambient light and shadows change dynamically
Shape, color, and intensity selectable for each light source
Realistic lighting behavior and visualization (e.g., reflections of brake lights)
Different luminance distributions available for all light sources
Simulation of changing light conditions (e.g., sunset, sunrise) and night drives for the development of adaptive front-lighting systems (AFS)
Automatic positioning of the sun, based on a simple ephemeris model
Testing real headlights in real time
NEW: Terrain generation and long-road support
Creation of road geometries with varying elevations on the basis of real satellite and elevation model data
Realistic simulation of the terrain to embed roads and road networks
Generation and real-time simulation of extremely long roads and road networks (thousands of kilometers and more)
Dynamic loading of the road segments ensures stable and high performance
NEW: Sensor simulation modules
Windows® console application
No performance loss caused by unnecessary user interfaces and supporting processes
Generated sensor raw data is provided by HDMI ports or via a shared memory interface
Easy transmission of sensor data to ESI units and virtual ECUs (V-ECUs)
Support of camera features and effects, such as Bayer pattern, lens distortion, chromatic aberration, vignetting, and shadow calculation as well as simple and advanced lighting
Allows for using all MotionDesk visualization features to address the requirements for the calculation of an optical path and realistic lighting scenarios
Postprocessing API
External interface to extend the functionality for customers (e.g., probabilistic model on sensor output)
Our Technical Sales staff will assist you in choosing your dSPACE system. They also provide with quotations and information about other dSPACE products.