SCALEXIO®
Modular Real Time System
The modular dSPACE SCALEXIO system can be used for hardware-in-the-loop (HIL) and rapid control prototyping (RCP) applications. It is highly scalable, provides high-performance processor technology for demanding real-time requirements as well as comprehensive, precise, and fast I/O capabilities. SCALEXIO systems are configured in dSPACE ConfigurationDesk.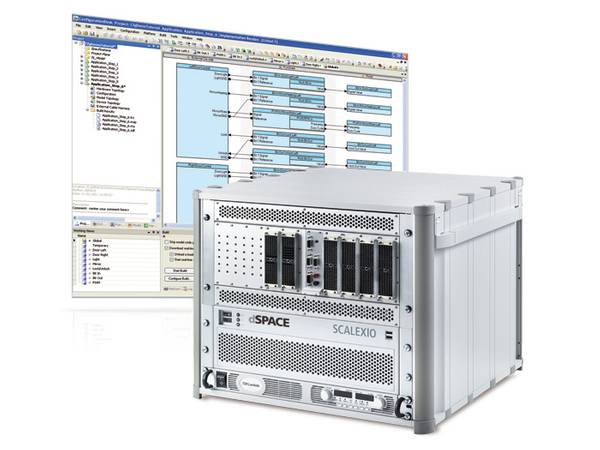 At A Glance
Application Areas
The dSPACE SCALEXIO product line comprises highly flexible and modular systems in various form factors for hardware-in-the-loop (HIL) and rapid control prototyping (RCP) applications for various industries such as automotive, automation, aerospace, medical, transportation, or research. Its powerful real-time technology and comprehensive bus support are ideally suited for the demanding applications of today and tomorrow, which include assisted, highly automated, and autonomous driving, electromobility, and increasing network communication. 
Key Benefits
Scalable to any required processing and I/O requirements

For laboratory as well as in-vehicle applications

High-performance processor technology for fast calculation of large and complex simulation models

Comprehensive, precise, and fast I/O capabilities based on FPGA technology

IOCNET real-time backbone with low jitter and high bandwidth for best-in-class closed-loop performance

Use of several third-party simulation environments via Functional Mock-up Interface (FMI) support
Processing Hardware
SCALEXIO provides two types of real-time processing platforms:
The SCALEXIO Processing Unit is based on an industrial PC that can be used within a SCALEXIO Rack System or as a stand-alone desktop version. It is suited for applications with high computation performance requirements.

The SCALEXIO D6001 Processor Board is a compact real-time platform and can be integrated directly in a SCALEXIO LabBox or a SCALEXIO AutoBox. The DS6001 is suited for applications that require fast closed-loop rates or high I/O bandwidth.

 
Both real-time platforms provide a high bandwidth Ethernet host interface and IOCNET interfaces for I/O extension or multiprocessor coupling. They also have an angular processing unit (APU) functionality for highly precise angle-based I/O simulation, e.g., injection and ignition signals. With these real-time platforms, up to six independent APUs can be used per SCALEXIO processing hardware.
Multicore Support for Large Models
Depending on the processor, large, complex simulation models can be distributed across several processor cores to ensure that they are computed in real time. A configuration software is used to distribute model parts to the cores and to configure the communication behavior, the simulation hardware, and the model connections.
Multiprocessor Support for Large Systems
Multiprocessor support means that several SCALEXIO systems can be interconnected to increase computational power. To provide large bandwidths, SCALEXIO processing hardware can be interconnected via IOCNET. You can use ConfigurationDesk to conveniently model a system. 
Host Interface
Communication with the host PC is carried out via Gigabit Ethernet, so the SCALEXIO system can be used in any company network. When more than two processing hardware components are used in combination with a single host PC, they are interconnected via an Ethernet switch to ensure communication. The IP address for the connection can be assigned via a DHCP server or stored on the SCALEXIO system itself.
Scalexio I/O Hardware
SCALEXIO offers three types of I/O boards. All the SCALEXIO I/O hardware shares the following characteristics:
Task-synchronous signal preprocessing on I/O boards to take some of the load off the real-time processor to ensure highest real-time performance of the SCALEXIO systems
Connection to the processing unit via an IOCNET interface
Fully software-configurable
Easy installation and configuration processes, so very little training effort is necessary
Topic
SCALEXIO I/O Boards1)
MultiCompact
HighFlex

General

Large number of I/O channels with dedicated channel types
Small board size
Connection to I/O via Sub-D connector2)
Boards are slot-independent 2) and easy to plug in

Large number of I/O channels for specific applications
Each channel has a dedicated channel type, so the costs per channel are low
Integrated signal conditioning and converters
Onboard Failure Insertion Unit (FIU)
Connection of real and substitute loads possible

Universal input/output channels with freely assignable channel types
Specific bus channels for all bus communication
Very versatile and finely scalable with 10 channels per I/O board, 4 channels per bus board
Galvanic isolation for each individual channel
Integrated signal conditioning and converters
Onboard Failure Insertion Unit (FIU)
Connection of real and substitute loads possible
Standardized connector concept for all boards
Boards are slot-independent and easy to assemble.

Can be used in

Products
1) No onboard Failure Insertion Unit (FIU), no connection of real or substitute loads.
2) Does not apply to DS633x boards.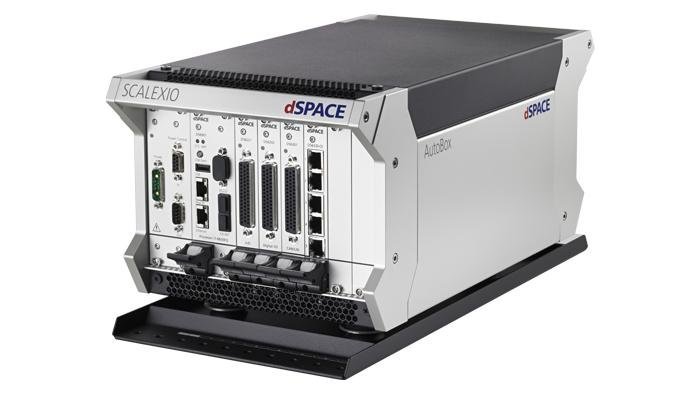 SCALEXIO AutoBox
The SCALEXIO AutoBox brings the power of SCALEXIO into vehicles such as passenger cars, trucks, trains, and agricultural as well as construction machinery. Optimized for in-vehicle use, it is ideal for test drives when developing components such as electric powertrains and chassis control as well as functions for assisted, highly automated, and autonomous driving.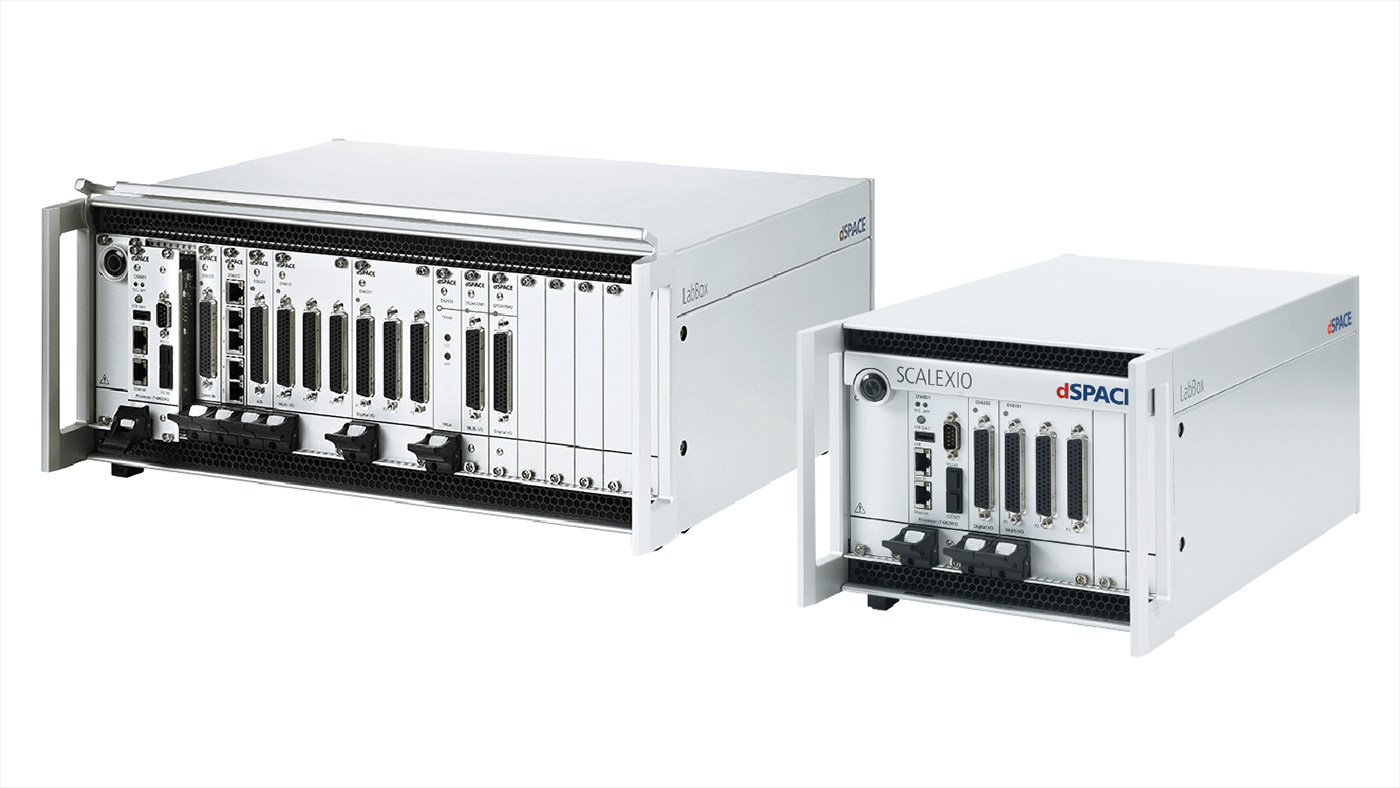 SCALEXIO
 LabBox
As a laboratory system, the SCALEXIO LabBox is ideally suited for a wide range of applications, such as RCP, function testing, test bench control, and as a base system for customized HIL setups. The compact chassis fits on an office desk and offers space for up to 18 SCALEXIO I/O boards, which you can easily exchange in order to adapt the real-time system to various applications.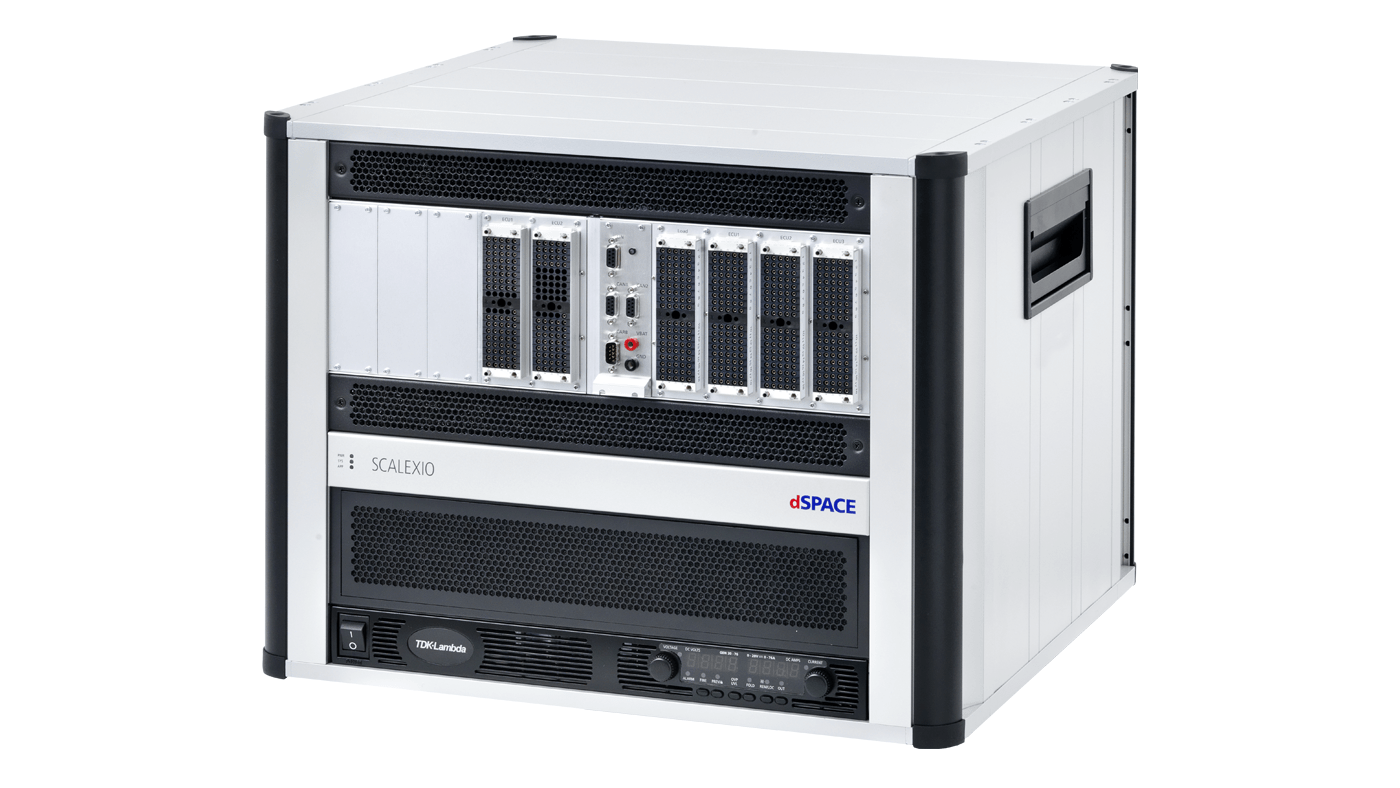 SCALEXIO
 Rack System
For ECU tests, the SCALEXIO off-the-shelf rack systems provide sufficient space for MultiCompact I/O units, HighFlex boards, and SCALEXIO I/O boards. The SCALEXIO off-the-shelf system for HIL applications comes in variants with 9 height units (U) and 12 U and is ideal for testing single ECUs
Our Technical Sales staff will assist you in choosing your dSPACE system. They also provide with quotations and information about other dSPACE products.